Green Product Placement blog
What Green Product Placement has been up to....
Green Product Placement Moving Right Along!
Since we've last posted on this blog, we've been very busy!
We spent the latter part of the spring and so far this summer working as set dressers (as a start up, we're keeping one foot in the production freelancers camp and the rest of us in Green Product Placement world- this keeps us connected to those that would place our products and get the word out about us AND helps us with our own personal expenses.) As our friend the leadman told us- "We're the company that will not only place your products, we'll literally place your products!". 

In addition to the production work, we've also been growing our business, with an eager and happy heart. We've begun to have productions contact us on their own, including TNT's "Leverage",  Indies "The Go Getters" and "Goodbye World" (the latter starring uber green and hot Adrian Grenier who starred in "Entourage" and with a producer friend, started green lifetsyle site SHFT.com), a co-production for the BBC and HBO starring Oscar winner Hilary Swank and Oscar nominee Brenda Blethyn, "Mary and Martha", and a new film for 20th Century Fox starring Owen Wilson and Vince Vaughn, together for the first time since "Wedding Crashers" crashed box ofice records.
It was placement in the latter that prompted a visit to new production capitol of the south, Atlanta. Lisa and Beth rented a Prius, packed it full of sample product gift bags and hit the road!
We drove 1700 miles down to Atlanta, all around Atlanta visiting production offices, and back on $125 worth of gas!
( By the way, Beth of GPP needed a new used car, and upon her return, purchased a used Prius.)
Just before our GPP road trip, Beth gave her talk "Making Green Normal: Green Product Marketing in Mainstream Entertainment Media" at our lovely New York City co-working space, Green Spaces New York.
Our wonderful intern, Stephanie, put together this great video showing more excerpts from Beth's talk (other excerpts available on the GPP blog post preceeding this one, here ).

Back in May, GPP was very honored to attend and be on the panel for Film Biz Recycling's  Production Eco-Expo.
Check out this fabulous video, produced by fellow panel members, Canal Creatures, that highlights the event:

Film Biz Recycling Eco Expo 2012 from Canal Creatures on Vimeo.
Film Biz Recycling is a non-profit Brookyn, NY based organization that diverts media waste from commercials, tv shows, movies and live events to appropriate charities. The best of the best ends up for sale or rent at their prop shop. We were joined by representatives from other sustainable production companies and organizations like Eco-Set Consulting,  Rock and Wrap it Up , Canal Creatures,  Sip N Go, Sunbeam Rentals, LeNoble Lumber, Soda Stream, Earth Angel Catering, Vokashi, and Susty Party Supplies. The event was sponsored by Lenoble Lumber and  Brooklyn Brewery and Green Product Placement was able to provide 2 raffle prize gift baskets filled with great GPP products AND plenty of Pirate Booty for all the guests, courtesy our clients, Pirate Brands.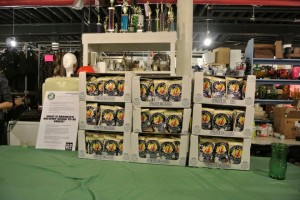 We've added some additional great press links, including an interview with Beth on Idea Mensch.com. Be sure to keep checking out our new press coverage on our Press Page, and all of our goings on found on our Facebook Page.
We're gearing up for the late summer/early autumn production push (many films and as well episodic television series begin pre-production and then shooting around this time), and are excited about placing our brands in many, many more great shows!